What do you carry in your pack when you're off piste or in the backcountry?  Some have said I overdo it, but I'd rather be prepared than find myself searching for something I forgot to bring.  It also means that it's possible I could assist someone else in the group, to keep us all moving.
So this is what I take when I'm away from the busy pistes.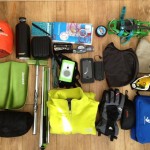 Two man bothy-bag/storm shelter
Water bottle
Waterproof pen and waterproof note-pad
Drift helmet cam (when the cam isn't on the helmet, I keep it in this case along with spare batteries and SD cards)
Map of the area and compass`
Leatherman Wave multi-tool
Head torch
NotWax puck
Clip-on crampons  (depends on the terrain and plan for the day)
Beanie
Base-layer balaclava with windproof neck and face panel
Spare goggles
First aid kit (also contains a small roll of duct-tape)
Sunglasses
Spare gloves
Spare mid-weight fleece
Avalanche probe (2.4m long)
light-weight gore-tex paclite shell
Shovel (alloy blade and extending handle)
4mm accessory cord (4m)
Transceiver
Waterproof iphone case and auxiliary battery
I sometimes use a bladder in the pack rather than the bottle, and will normally have some chocolate and snacks as well, and I'll often have skins with me too, but they aren't shown here.
So what's in your pack?  Do you carry more or less than this?