I have 3 pairs of skis in my quiver this year, stop sniggering at the back, I know that's far too few. They comprise an all mountain ski, a fat powder ski and a pair of twin-tips. I've got Marker baron on the all-mountain skis and had Griffon on the powder planks, I can only just fit all 3 in my SnoKart bag, but it's a tight squeeze so I've found a solution to making ski carriage easier but also saving money in the long run.
While it's handy having different skis for different conditions, how many sets of bindings do you actually need?  If you could easily swap the bindings between skis, then you only really need one set.  This is exactly what Quiver Killers enable you to do.  These little stainless steel threaded inserts are screwed and epoxied into the ski at the binding mount points and the bindings are attached using stainless steel machine screws rather than screwing into the core of the ski directly.  It's the same technology they've been using on snowboards for years and makes so much sense one you think about it.
So yesterday, I popped along to see Jon Coster at the Piste Office to get my all mountain skis and powder planks quiver-killered so I can use my Baron bindings on both skis.  I'll probably swap the basic Squires on my twin-tips with the now redundant Griffons that were taken off the powder skis.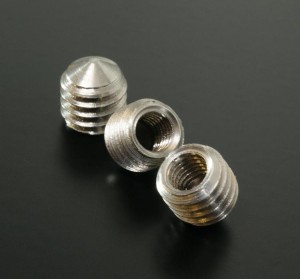 The job took a couple of hours in total, but that included a bit of gossip and a cuppa as well as working out the screw hole positions where the Griffons had been removed as they overlapped with those of the Baron.  However, we noticed that the Griffons were mounted a bit further forward than needed, so by setting the holes for the Baron closer to the 'classic' position, we had plenty of room to play with.
The end result? Two pairs of skis with stainless steel threaded mount points and one set of bindings to be swapped between them.  It'll make for much easier packing in the bag and also save a smidgen of weight only taking one set of bindings.
You can also argue that, with the same thread depth but a wider fitting, it's a stronger mount too.
The inserts cost £2 each but can be bought in packs to lower the cost, and can be DIY or visit Jon to get them done for you.  I can recommend the latter, especially if you're fitting them to skis which have been drilled for a different binding to the one you're fitting.