Crystal announced, yesterday (12th November), that they are cancelling their Ski Hosting service in Italy.  In a communication sent to customers intending on travelling to Italy, they stated:
"We are writing to let you know that due to local legal restrictions we have taken the hard decision to suspend our free social skiing service in Italy this winter. Some of our customers have enjoyed this service in the past, and our expert in-resort team will be on hand to make sure you continue to get the most out of your time on the slopes. They're always on hand to offer tips on where to ski, connect you with like-minded skiers at your level and update you with resort news."
When asked if the regulations had changed in the last year, they told us
"Yes, regulations are actively being enforced by the local regions in Italy for this winter."
Crystal confirmed that the regulations were similar to those being enforced in France, which states that only a qualified mountain guide or ski instructor can lead groups on the mountain, either on or off-piste.  When we first contacted Inghams and Neilson yesterday to ask if they were following suit, they assured us that the hosting would continue. Today, however, Inghams got in touch to say
"due to recent information from Italy we are reviewing our 'Meet the Piste' session"
As such, we would not be surprised to see an update from Neilson as they are likely to do the same.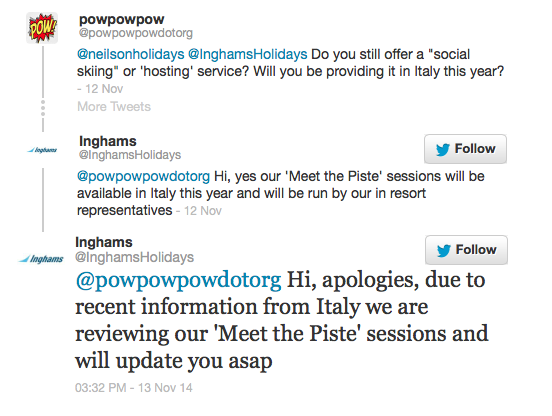 Speaking to Cortina Tourism, they were unaware of any new regulations, but suggested that the situation was similar to that in France where anyone leading a group in a professional capacity is required to be suitably qualified.  They were unable to confirm the precise legal situation however.  If it is, indeed the case that there are no new regulations and it's simply more active policing of existing regulations, then could it be argued that Crystal, and perhaps Inghams are withdrawing a service which is technically illegal anyway?
Some further digging suggests this is, in fact the case.
In italy, if you wish to lead groups, then you need to be a qualified mountain guide, an "Accompagnatori di Media Montagna" (first step to become mountain guide), Maestri  (Ski instructor) or, in areas where it's been introduced, an "Assistenti di Scuola Sci", which is the first step to become a Maestro.
So, if you guide or lead groups on the mountain in any professional capacity, without holding the "Maestro" or "Guida Alpina" qualifications, you committing a criminal offence,
"chiunque abusivamente esercita una professione (1), per la quale è richiesta una speciale abilitazione dello Stato [2229] (2), è punito con la reclusione fino a sei mesi o con la multa da centotre euro a cinquecentosedici euro." and "Chiunque, fuori dei casi previsti dall'articolo 497 ter, abusivamente porta in pubblico la divisa o i segni distintivi (1) di un ufficio o impiego pubblico, o di un Corpo politico, amministrativo o giudiziario, ovvero di una professione per la quale è richiesta una speciale abilitazione dello Stato [348], ovvero indossa abusivamente in pubblico l'abito ecclesiastico, è punito con la sanzione amministrativa pecuniaria da centocinquantaquattro euro a novecentoventinove euro." (art.498 c.p.)"
The only exception to these regulations is the CAI, Club Alpina d'Italia which is a public body and 'club' in a sense.  While it's exempt from the specified qualifications, it does have it's own set of qualifications in place which are considered equal to those of Mountain Guide or Maestro/instructor.  As we understand it, those CAI "guides" are also volunteers.
Needless to say, if you're unqualified and as such, operating in a 'criminal' manner, then you won't have or be able to get the relevant insurance, which certainly wouldn't help in the event of any civil action.
Crystal and Inghams were among a number of tour operators who cancelled their Ski Hosting services in France last season, with some of them partnering with ski schools to provide alternative services.
We will update this post as we receive more information.