Last year saw the Freeride World Tour come to the UK for a qualifying round at Glencoe.  The Coe Cup was enough of a success that the FWT is back this year for another qualifying round but as well as that, Snowsport Scotland have organised a new Freeride Competition Tour to go with it.  The Freedom Series promises 4 events at the 4 main ski areas in Scotland, ending with the Coe Cup on the 15/16 march.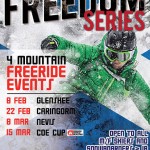 The competition is open to skiers and boarders over 18 and you can enter either individually or as a team into any of the 4 events.
Sat 8th Feb – The Glenshee Freeride
Sat 22nd Feb – The Cairngorm Freeride
Sat 8th March – The Nevis Range "Corries Challenge"
Sat 15th March – The Glencoe "Coe Cup"
For more information and registration for the first 3 events visit the Freedom Series webpage.

As the Coe Cup is a FWQ event, registration for that is via the FWT site: http://www.freerideworldtour.com/
I'm planning to be at the Coe Cup, competing in the name of powpowpow, so hope to see you there.