This recent, relatively small avalanche at Grizzly Gulch in Utah has been getting a lot of press recently, and much of the commentary in the mainstream media is  that she survived due to her airbag.  Certainly, the airbag appears to have helped but ultimately she was still buried 1/2 a meter under the surface of the snow when it stopped moving.
There's a number of key points that I feel are being missed from the mainstream media's coverage of this slide:
While the skier had a transceiver and other avalanche safety equipment, the photographer and other skier she was out with had no rescue equipment whatsoever.
The two groups of skiers who observed the avalanche and ultimately rescued the woman were unrelated to the victims and each other, it was sheer luck that they happened to be there and witness it, but more importantly, be suitably equipped and knew how to use their gear.
There was evidence of earlier slides on the same slope and the avalanche forecast had stated that "Human triggered avalanches were likely on such slopes".  The affected group stated they were aware of this.
The group had not, initially, intended to go off-piste and so had not taken their avalanche kit with them, but ended up venturing out anyway as the conditions were so perfect.
The airbag may have helped keep her nearer the surface, certainly, but it was the presence of the gully as a terrain trap which ultimately meant she ended up buried.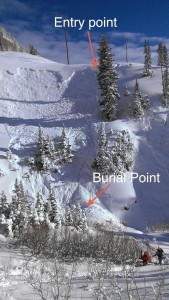 In my opinion, for whatever that is worth, this was an incredibly lucky escape. A series of obvious mistakes, of getting caught up in the moment and enjoying the conditions despite knowing the risks of avalanche were high, and yet venturing into such terrain without the appropriate equipment or backup was, in hindsight, plainly stupid.  But as I said, it can be easy to get caught up in the moment and go 'just a little further'.
It was sheer luck that there were another 4 skiers present who not only witnessed it and were nearby, but who knew what they were doing enough to react and rescue her.  Bearing in mind the key 15 minutes burial time, and that the group were skinning up, it could have been a different story if they had been only a few hundred meters further down the slope.
Update: The victim was Amie Engerbretson and she has posted her account of the days events on her blog: http://amieski.com/2013/12/12/blind-spot/
More details: Accident: Grizzly Gulch | utahavalanchecenter.org.